Important Information About the Pennsylvania Department of Health  School Masking Order
On August 31, 2021, Pennsylvania's Acting Secretary of Health signed an Order requiring face coverings to be worn in all school entities, including school districts, brick and mortar and cyber charter schools, private and parochial schools, career and technical centers, intermediate units, and early learning and other child care settings, effective Tuesday, September 7, 2021.
The order spells out specific exemptions to wearing face coverings – including playing instruments. You may want to make your administrators aware of this language.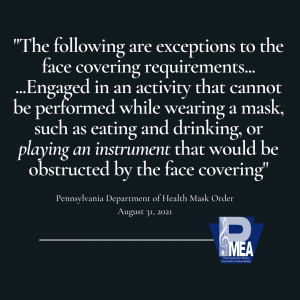 Download COVID Mitigation Protocols these protocols to post in your music room.
Based on scientific information(July update), music making during the COVID-19 pandemic is safe, providing appropriate steps are taken.  This guidance is for school music settings and other places where there is live music happening. This guidance applies to both indoor and outdoor gatherings.
CDC guidelines related to hand washing, hand sanitizer, and clean surfaces are recommended in all music making activities.

Masking with appropriate material remains the best way of reducing potential infected aerosol from circulating in an indoor space. Masks are recommended to be worn while singing and speaking.

Depending on your comfort level, instrumentalists can wear masks only when speaking and slitted performance masks are optional.

Bell covers made from appropriate material remain the best way of reducing potential infected aerosol from circulating in an indoor space.

Distancing may be decreased to 3 feet, adjusting farther or closer depending on local conditions.

Anyone playing an instrument that releases spit or condensation on to the ground should use a puppy pad to absorb the spit or condensation and then dispose of the pad properly.

Sharing of music, instruments, and other equipment should be kept to an absolute minimum and proper hygiene should be in place when sharing does occur.

In spaces with good ventilation rates and HEPA filtration, increased indoor rehearsal times of 50 minutes may be considered. A minimum of 3 air exchanges per hour should be used, if there are spaces with higher air change rates, you may consider longer rehearsal times.

No mitigation is needed for outdoor performances depending on the level of local and state transmission rates. Outdoors remain the safest space for performances.