Congratulations to the 830 school districts that are among the Best Communities in the nation for music education and the 78 schools that were winners for the 2023 SupportMusic Merit Awards.  The award program recognizes outstanding efforts by teachers, administrators, parents, students and community leaders who have made music education part of a well-rounded education.  Designations are made to districts and schools that demonstrate an exceptionally high commitment and access to music education.
Learn more at www.nammfoundation.org
Here are the Pennsylvania Best Communities and SupportMusic Merit Award designees. Congratulations!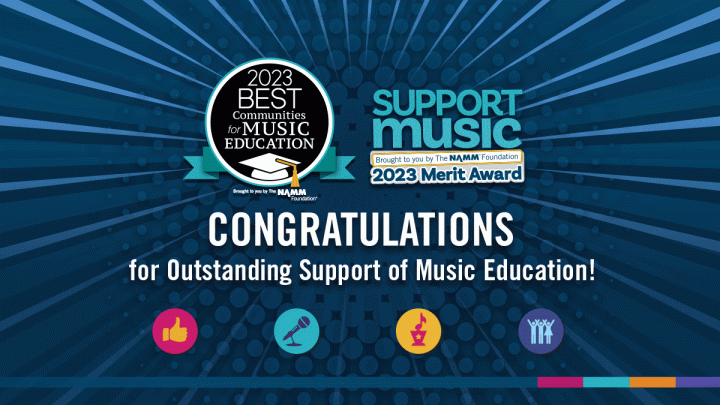 BEST COMMUNITIES FOR MUSIC EDUCATION
| | | | |
| --- | --- | --- | --- |
| | Clarks Summit | PA | 18411-9412 |
| | Abington | PA | 19001-4535 |
| | Reading | PA | 19606-1000 |
| | Kittanning | PA | 16201 |
| | West Grove | PA | 19390-8908 |
| | Pittsburgh | PA | 15237 |
| | Wingate | PA | 16823 |
| | Bellefonte | PA | 16823-8436 |
| | Bensalem | PA | 19020 |
| | Bethel Park | PA | 15102 -1689 |
| | Newville | PA | 17241 |
| | Beaver Falls | PA | 15010-1410 |
| | Boyertown | PA | 19512-9699 |
| | Lower Burrell | PA | 15068-8745 |
| | Carrolltown | PA | 15722-7302 |
| | McDonald | PA | 15057 |
| | Carlisle | PA | 17013-2266 |
| | Warminster | PA | 18974 |
| | Doylestown | PA | 18901 |
| | Harrisburg | PA | 17109 |
| | Monaca | PA | 15061 |
| | York | PA | 17406-1554 |
| | Fishertown | PA | 15539 |
| | Clairton | PA | 15025-0481 |
| | Clearfield | PA | 16830 |
| | Plymouth Meeting | PA | 19462 |
| | Lancaster | PA | 17601 |
| | Lebanon | PA | 17042-7595 |
| | Newtown | PA | 18940-2202 |
| | Mechanicsburg | PA | 17050-1711 |
| | Milford | PA | 18337-9454 |
| | Hershey | PA | 17033-1591 |
| | Downingtown | PA | 19335-3459 |
| | Dubois | PA | 15801 |
| | North Versailles | PA | 15137-2726 |
| | Emmaus | PA | 18062 |
| | East Stroudsburg | PA | 18301-2150 |
| | Easton | PA | 18040-8186 |
| | Springville | PA | 18844 |
| | Reading | PA | 19606 |
| | Pittsburgh | PA | 15238-2406 |
| | Murrysville | PA | 15668 |
| | Sarver | PA | 16055-9202 |
| | Glen Mills | PA | 19342-1751 |
| | Flinton | PA | 16640-8900 |
| | Shillington | PA | 19607 |
| | Latrobe | PA | 15650 |
| | Hanover | PA | 17331 |
| | Havertown | PA | 19083 |
| | Greensburg | PA | 15601-6411 |
| | Hollidaysburg | PA | 16648 |
| | Vandergrift | PA | 15690 |
| | Kutztown | PA | 19530 |
| | Factoryville | PA | 18419-0085 |
| | Lewisburg | PA | 17837-1296 |
| | Ardmore | PA | 19003-3338 |
| | Huntingdon Valley | PA | 19006 |
| | Williamsport | PA | 17701-1938 |
| | Lancaster | PA | 17601-2877 |
| | Newtown Square | PA | 19073 |
| | Eagleville | PA | 19403-1048 |
| | Lewistown | PA | 17044 |
| | Montoursville | PA | 17754-1900 |
| | Moon Township | PA | 15108-4202 |
| | Mount Pleasant | PA | 15666-1060 |
| | Pittsburgh | PA | 15228-1107 |
| | Nazareth | PA | 18064 |
| | Langhorne | PA | 19047-8245 |
| | New Hope | PA | 18938 |
| | Norristown | PA | 19403-2745 |
| | Pittsburgh | PA | 15237-5344 |
| | PIttsburgh | PA | 15229-1233 |
| | Lansdale | PA | 19446 |
| | Ashland | PA | 17921-9300 |
| | Manchester | PA | 17345 |
| | Loysburg | PA | 16659 |
| | New Tripoli | PA | 18066 |
| | North Huntingdon | PA | 15642 |
| | Oley | PA | 19547 |
| | Oxford | PA | 19363-1598 |
| | Allentown | PA | 18104-9643 |
| | Perkasie | PA | 18944-1898 |
| | Fallsington | PA | 19054 |
| | Collegeville | PA | 19426-2042 |
| | Phoenixville | PA | 19460-4475 |
| | Pine Grove | PA | 17963 |
| | Plum | PA | 15239 |
| | Swiftwater | PA | 18370-0191 |
| | Port Allegany | PA | 16743 |
| | Pottstown | PA | 19464 |
| | Pottstown | PA | 19464 |
| | Red Lion | PA | 17356-2403 |
| | Lancaster | PA | 17603-5396 |
| | Philadelphia | PA | 19130-4015 |
| | Oreland | PA | 19075-2418 |
| | Glenshaw | PA | 15116 |
| | Shenandoah | PA | 17976-1401 |
| | New Castle | PA | 16101-6095 |
| | Quarryville | PA | 17566 |
| | Somerset | PA | 15501-2513 |
| | McDonald | PA | 15057-0900 |
| | Hookstown | PA | 15050-1439 |
| | Center Valley | PA | 18034-9711 |
| | Spring Grove | PA | 17362-1200 |
| | Springfield | PA | 19064-2348 |
| | Royersford | PA | 19468 |
| | State College | PA | 16801-7951 |
| | Stroudsburg | PA | 18360 |
| | Washington | PA | 15301-5713 |
| | Tunkhannock | PA | 18657-1497 |
| | Kennett Square | PA | 19348 |
| | Upper St. Clair | PA | 15241-2304 |
| | Lititz | PA | 17543-1814 |
| | Imperial | PA | 15126-0035 |
| | Exton | PA | 19341-2850 |
| | New Cumberland | PA | 17070-0803 |
| | York | PA | 17408-9900 |
| | Williamsport | PA | 17701-4137 |
| | West Lawn | PA | 19609-1324 |
| | North Braddock | PA | 15104-2418 |
| | Kingston | PA | 18704-3630 |
| | Wyomissing | PA | 19610 |
| | York | PA | 17403-3097 |
SUPPORTMUSIC MERIT AWARD
| | | | |
| --- | --- | --- | --- |
| | Philadelphia | PA | 19144-2801 |
| | Lancaster | PA | 17601-4360 |
| | McKeesport | PA | 15132-7400 |
| | Clearfield | PA | 16830-2116 |
| | Tidioute | PA | 16351-1222 |
| | Wilkinsburg | PA | 15221-1607 |
| | Wilmerding | PA | 15148-1233 |